Refusing to forsake the once glorious theatre inherited by his father, slightly delusional and utterly dedicated to his never-ending affection for show business, Buster Moon, the ambitious koala, inevitably finds himself in dire straits watching hopelessly the ticket sales rapidly decline. But is Buster Moon, the greatest showman, as hopeless as he seems? Fortunately, in one of those spur-of-the-moment decisions, the visionary koala's mind will give birth to a simple, yet fantastic idea for a show that no one would be able to resist, and hopefully, save his theatre: a singing competition. Now, every sunny daydreamer in town gets a chance to shine, and as the word of a grand prize spreads like wildfire causing a big commotion in the city, the stage will ultimately be their battlefield. From tiny, yet overconfident and suave alto saxophonists, to heavenly-voiced bashful soloists, anybody can dream big; after all, all creatures great and small are welcome to the Moon Theatre.
Buster Moon (Matthew McConaughey)
Filled with an unrelenting drive to succeed, Buster Moon is determined to save his struggling theatre despite dwindling audiences, bad reviews and accumulating debt. Well-intentioned, he does have a habit of stretching the truth, which usually widens the hole he's digging himself into. Nonetheless, he has an irresistible charm as his passion and optimism are utterly contagious.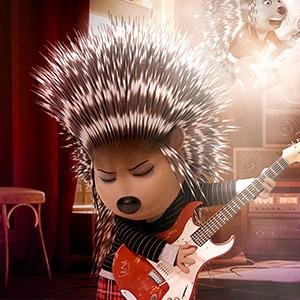 Ash is a prickly teenage porcupine with a punk rock attitude. She auditions for the competition with her egotistical, unsupportive jerk of a boyfriend, unable to see just how much he is holding her back. In rehearsals, her rebellious nature continually puts her at odds with Buster, who envisions her as a pop star princess whereas Ash wants to write her own authentic rock songs that reflect her unique style.
Johnny is a soulful, Cockney gorilla whose beautiful singing voice and passion for music are in direct opposition to his role in his father's bank robbing crew. Deep down, Johnny wants to be a singer but knows that his alpha-male father would disown him if he knew the truth. He keeps his involvement in the competition secret, straddling a double life as an aspiring singer by day and getaway driver by night.
Meena is a vocal powerhouse hidden inside a shy teenage elephant with a devastating case of stage fright. After bungling her audition, she takes a job as the show's stagehand, afraid to tell her family she didn't make the cut. Ultimately, Buster will take Meena under his wing, hoping to help her overcome her anxiety, face her fears and deliver the show-stopping performance her family always believed she had within her.
Rosita (Reese Witherspoon)
Rosita is a selfless homemaker and mother of 25 piglets who wants to remember what it feels like to be something other than a wife and a mom. In the competition, she'll be partnered with a German pig named Gunter who instantly sees her inner diva and makes it his mission to unleash her.
Gunter is a boisterous dynamo and double threat singer-dancer who is partnered with Gunter to liven up her act. He feels most himself when rocking spandex dance leotards and encourages Rosita to loosen up and shed her inhibitions.